Blog 2016
More and More on Color
October 23, 2016 08:00
We have continued to examine the spectrum of absorbance of various flowers and we show three below.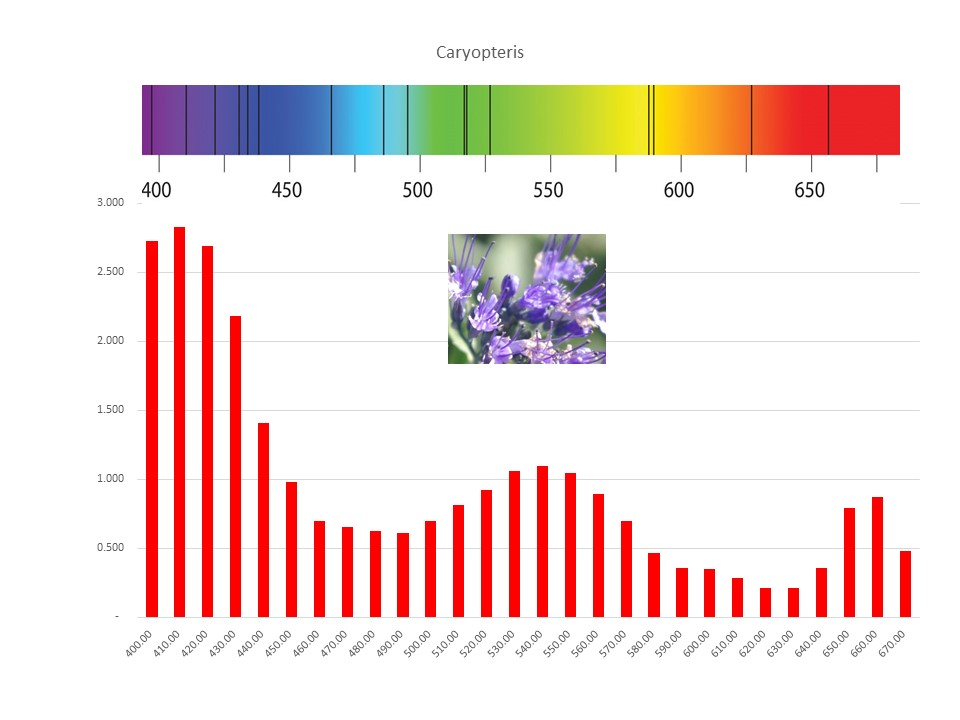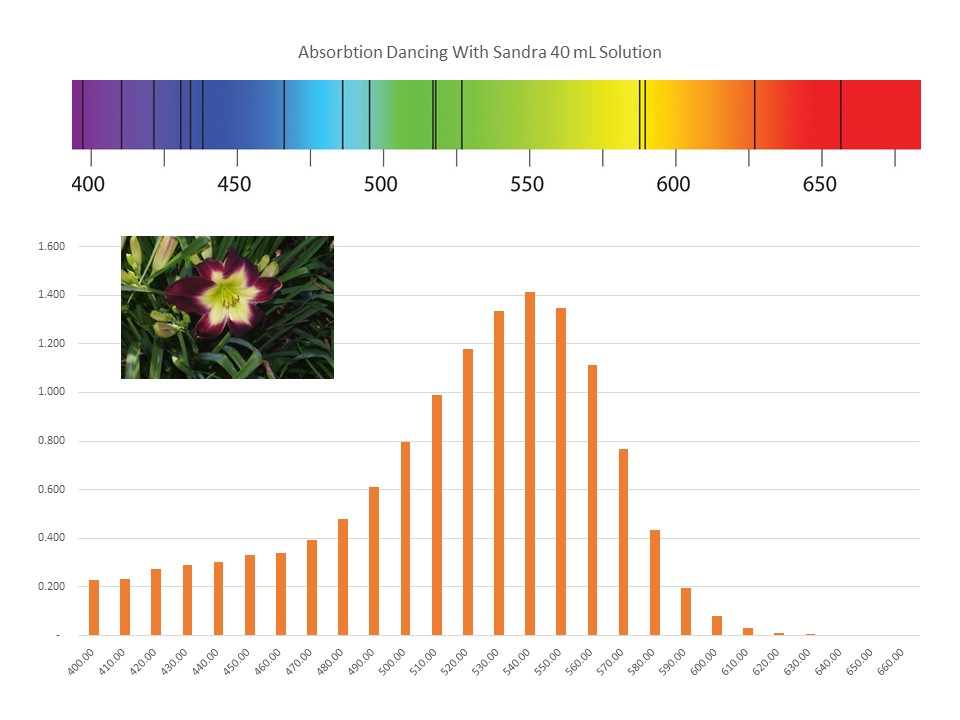 What is interesting is that the "blue" one, caryopteris has two strong dips with a block in the green yellow band. It is worth loking at these in detail.
More on Color
July 19, 2016 08:00
We have been doing a lot of spectrophotometry on the pigments. Below is Indian Giver.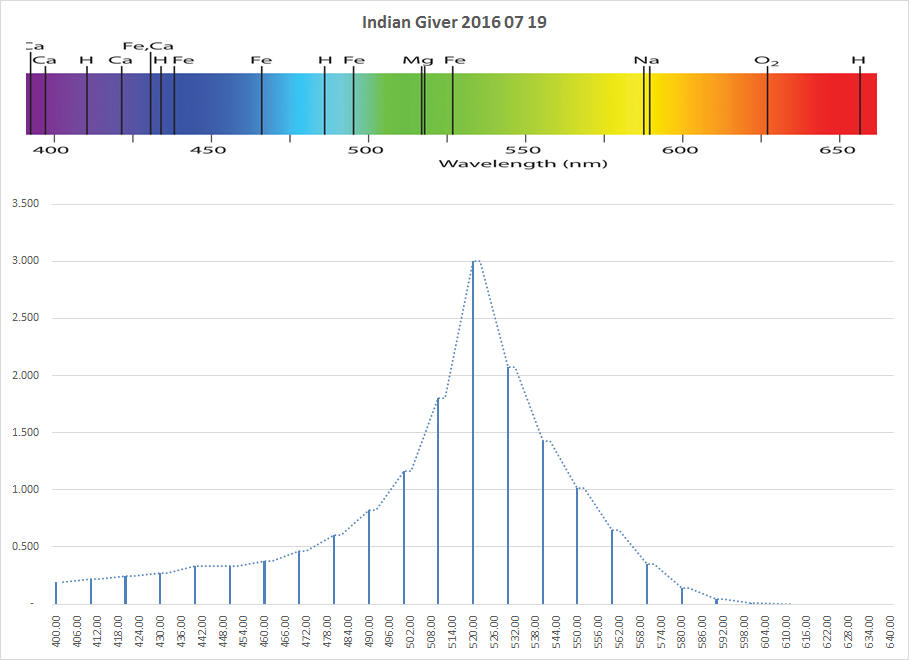 Note the peak absorption at 530 nm somewhat in the green spectrum. Remember that white light hits the flower petal, passes through the colored cells and then reflects back out the same way. If the cell absorbs green and does not absorb red then we get red. Here we see not much red and some on the blue end with a peak in green.
Below is Halloween Cat: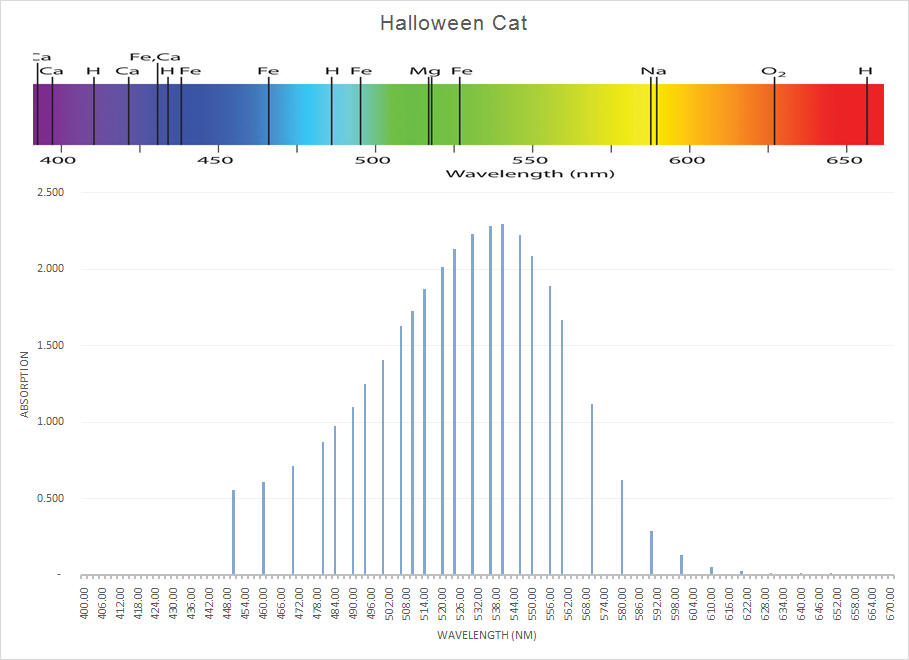 Here the blues absorb a bit more. I will write up the technique. You have to dilute the anthocyanin to an optimum level, requires matching peaks.
Open House
July 7, 2016 08:00
We have an Open House this weekend. It will be from 10-4 on Saturday and Sunday. Open for all.
Maria Made Me

My grand daughter made this cross. Looks great!

Daniel's Delight

This is a wonderful light lavender.

Dottore Giuseppe

A great bicolor

Florham Paris Nights

Nice pastel

H hakunensis
Miss Judy Lynn
End of June Highlights
June 25, 2016 08:00
Unlike previous years where we gave daily updates we will just try to give weekly highlights.
09.117

I have been watching this one. It is fantastic, good bud count strong color.

Windham Orange Glow

I like the Windham plants.

Miss Judy Lynn

A recent intro.

Destined to See

I really like this one

Rapp Sure Song

A new intro, ruffled edges

Florham Orange Surprise

A bicolor

New Perspective

Interesting Bi color
Flowering Has Started
June 19, 2016 08:00
Flowering has commenced. It beat 95F today so we expect some bloome.
Early Bird Cardinal
H fulva
Stella Doro
Wings of Chance
H minor Siberia Apps
Orange Prelude
Marvelous Muriel
Buckeye

A Stout Hybrid with fantastic blooms almost for a month!
More Species
May 22, 2016 08:00
The other species are coming out now.
H middendorfii

Note the chrome color, almost orange.

H dumortierii

Note the brownish color on outside of sepals
First Species
May 15, 2016 08:00
The first species blooms have come out. H minor.
H minor

Lemon Yellow, grass like leaves, recumbent scapes, lie almost to the ground.

H minor buds
H middendorfii buds
H dumoetieri buds
First Blooms
May 10, 2016 08:00
The first bloom is Elfin.
Elfin

The earliest daylily a Stout
First Buds
April 22, 2016 08:00
The first buds are here, early but not that early. Elfin which is the early Stout and H middendorfii.
Elfin

This is a great Stout plant, very early bloom.

H middendorfii

This is the early species.
The Beginning
January 3, 2016 08:00
Well, Happy New Year! We have started this year by sorting, analyzing, and staging our seed for this coming season. We did 526 crosses, with 286 mature pods for a 54.4% yield. This is one of our better yields. The overall results are as follows: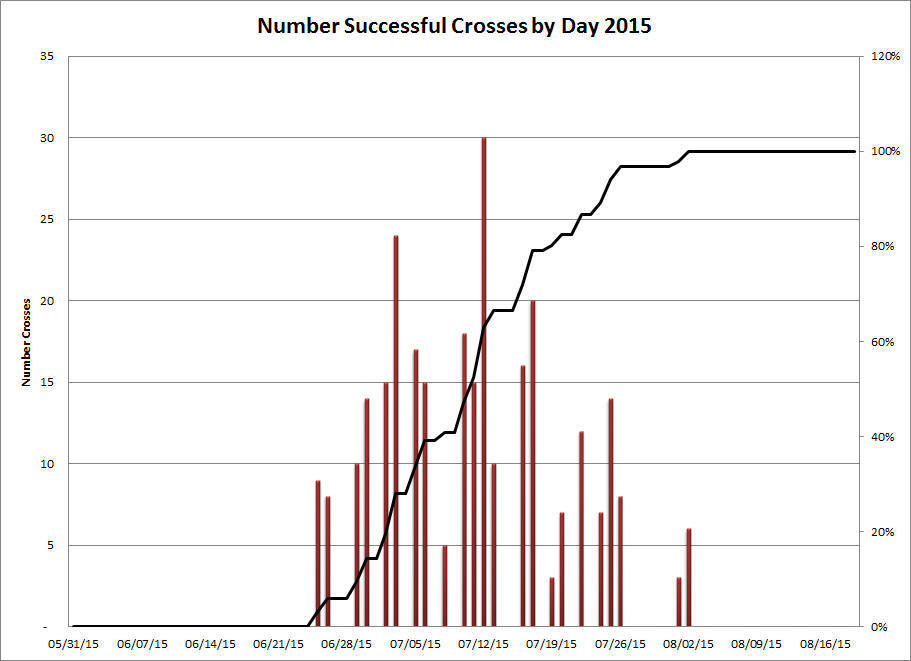 The above is the number of viable seeds per day of cross. What is of interest is cross correlating this with maximum daily temperature. For example the drop in mid July is we believe due to excess temperature.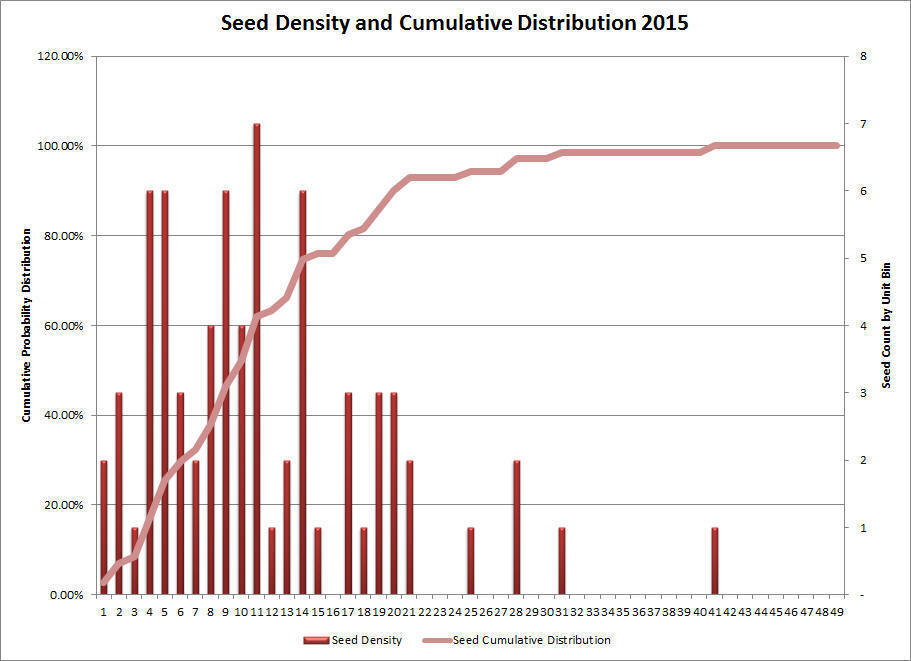 The above is the seed distribution. Namely this is the distribution of seeds per pod and its cumulative. It clearly is not Gaussian as has been the case with all previous years. The average is about 12 seeds per pod but we do have extreme outliers.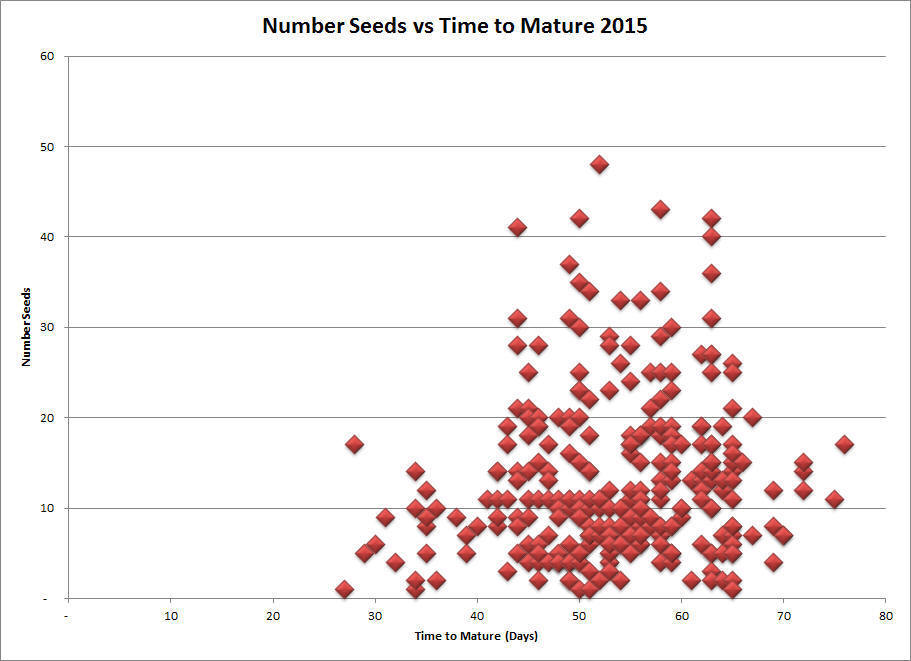 The above is the plot of the number of seed and time to mature. Namely the time between cross and seed collection. Note we have some very short seed times and some very long. The bulk is between 42 to 65 days.